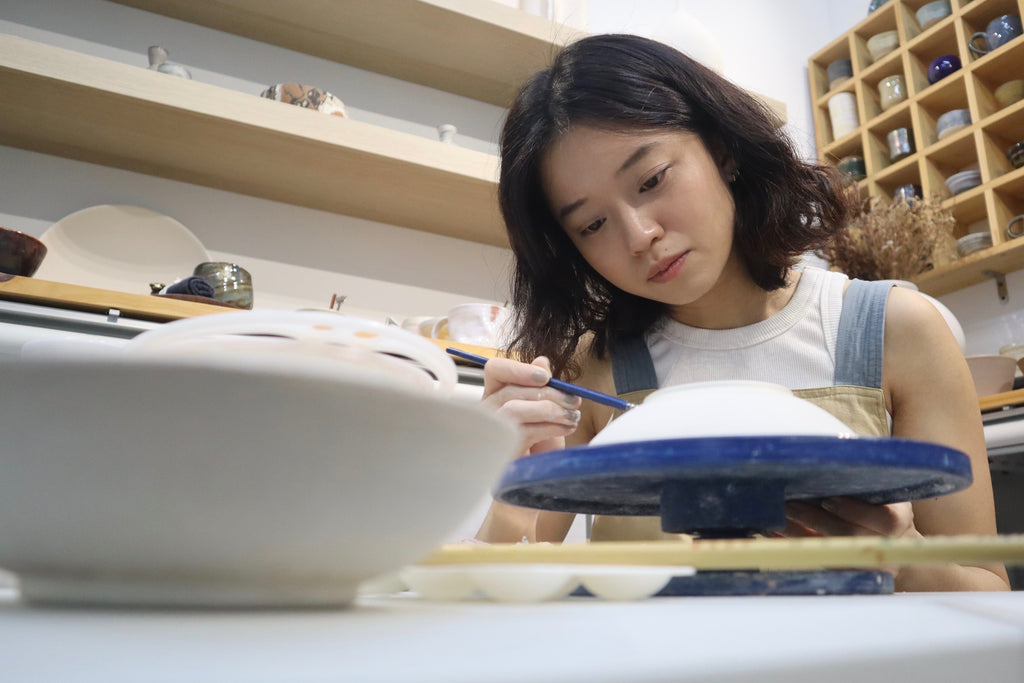 We first discovered En Ceramics on Instagram when we were searching for Singapore-based potters to join us for our Two-Day Clay event in June this year. What drew us to her tableware were her seemingly simple yet elegant forms, coupled with her lovely colour palettes that complemented her designs very well. After the pretty-much-successful event where she sold almost all her tableware, we contacted her to produce an exclusive collection and the rest is... history.
Hi Ashley, tell us a little bit more about your first foray into the pottery world.
I got to know about the art of pottery about two years ago through one of the modules I was taking in school during my undergraduate years. I've always had a deep appreciation for clay and its potential. Sometimes, I feel like I live and breathe ceramics - with me being a full-time graduate student who is studying archaeological ceramic remains and doing pottery on the side. In a sense, I can safely say that ceramics is one of my passions in life. 
Ashley at work, trimming her bowl
That's interesting to see that your area of study and your passion overlaps quite greatly! Do you then draw inspiration (for your tableware) from your area of study as well? 
Actually, I find my inspiration through the things present around me. I often find myself dreaming up forms while sitting in a space, pondering over the kind of vessels that would complement certain spaces - this process sparks a certain joy in my creative process.
Anything from architecture to furniture serve as inspirations to me. In terms of colour, palettes of daily life, especially in nature, often inspire me to liken my glaze palette to things observed.
One of our favourite glazes from the exclusive collection
We are going to make a guess here - you have a specific creative process from the idea conceptualisation stage to the making of the final product.  
That's true! To be honest, I used to actually throw right off the wheel as I quite liked the idea of allowing my hands to just flow with the pieces I make. However, these days I do find myself sketching a little more when ideas come to mind just to help myself visualise the feasibility of forms. 

You recently joined us for our Two Day Clay market and got to meet other local potters. How do you feel about the local (Singapore) pottery scene generally?
I feel inspired by the local scene because everyone comes with their own personal touch and style. Ceramics often reflect the potter's nature and I love that about it. Also, the potters I've met and interacted with have been some of the sweetest, loveliest and supportive people I've met. Everyone wants everyone to succeed and I love that too. 
Ashley chatting away with Megan (Eastfield Ceramics) at the event
(L-to-R) Jieying (Bonhomie Ceramics), Esther Ng, Ashley (En Ceramics), Gladys (Serial Kilner) at our Two Day Clay event
What is your favourite thing about being a potter?
Favourite thing - the tactility of the art form and the forgiving nature of the medium itself, mistakes are often reversible until the firing stage which then brings me to my least favourite thing - the heartache that comes with a failed batch of ceramics after opening the kiln!

Your products have a very distinct vibe and style to it. Are there any ceramicists that you follow?
Of course! My personal favourites are Makoto Saito, Yuka Ando, Nancy Kwon, Karina Smagulova.
Last question - functional or sculptural?
I am currently at a point where I only make functional tableware however sculptural and decorative pieces are on my list to explore. I just want to find the right approach for myself before trying out anything.
--
If we've got you scrolling till here, you can check out her exclusive collection with us here or scroll more to check out other snippets of Ashley's works!