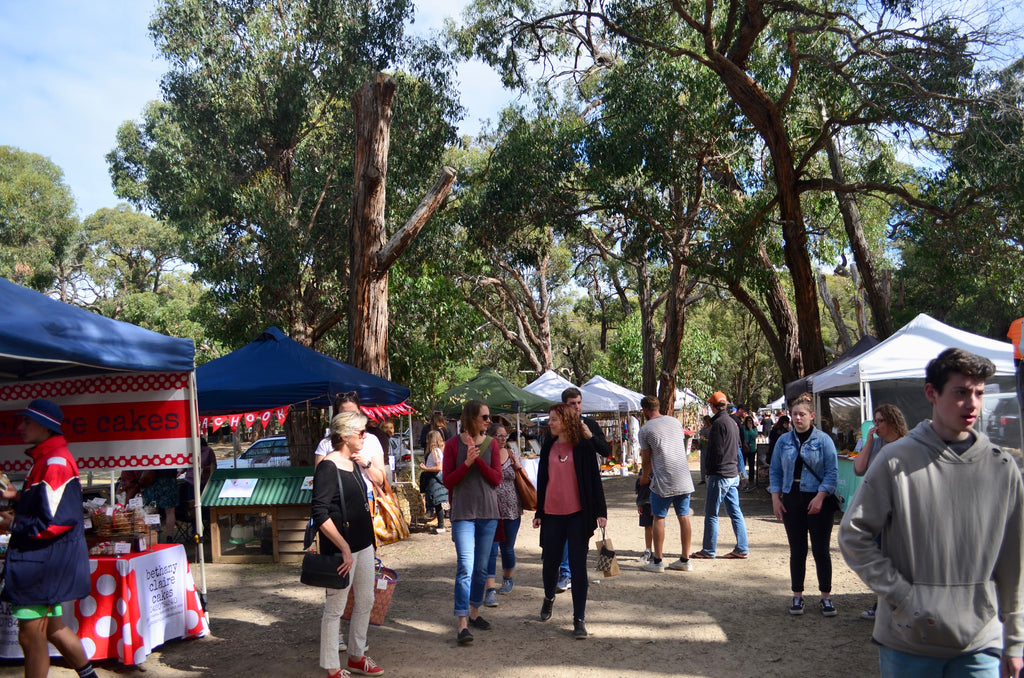 For our last sourcing trip in Australia, we had actually booked the flights for some random dates few months in advance and then we did our research! (I know I know, research usually comes before the booking) 
Luckily, our trip coincided with the last Emu Plains Market of the season which we've been wanting to get to for the longest time! If we had missed this one, their next one would only be in October.  
Emu Plains Market was set amongst the stringybark gums of the Emu Plains Reserve and it was really quite a sight to behold when we were driving in! Huge open plains welcomed us as we drove into the vast carpark of the market. 
The market area was perfectly set too, surrounded by tall lanky trees, with makers and farmers opening up their
 car boots right behind their stalls.
Enjoy the visual compendium! 
Of course, since this was a sourcing trip, we were on the lookout for new ceramicists too and we spotted three ceramicists here! 
(1) Calm in a Teacup
We had a very interesting conversation with the maker behind Calm in a Teacup, an elderly lady who is pursuing pottery as her retirement hobby. She loves testing out new forms and glazes and was very patiently explaining to us her idea behind each piece (which of course led to Ly grabbing a few pieces for herself)! She also lamented about the lack of pottery classes in the region, and the closing down of more pottery courses or schools.
(2) Anne Laure Harskamp
We also chanced upon Anne's works in the market and we were immediately attracted to her painstakingly hand-drawn dot/lines in her work. We can just imagine how time consuming it must have been but she mentioned that she enjoys taking her time to draw on it and finds the whole process very therapeutic. 
(3) Kelly Murphy
The last ceramicist we met in this market was
Kelly Murphy
! We'd actually ordered Kelly's collections way before arriving in Australia and had agreed to meet her a few days later, but we decided to pop by her booth too to
check out
her entire range of tableware in person. And... we
accidentally
bought a cup and planter for ourselves. 
Emu Plains Market boasts over 200 stalls and we would definitely recommend this to anyone travelling in this region. But do take note of the market's dates and opening hours before planning a trip down!
P.S. stick with us to check out Kelly's and Anne's tableware collections that will be made live on our website soon!