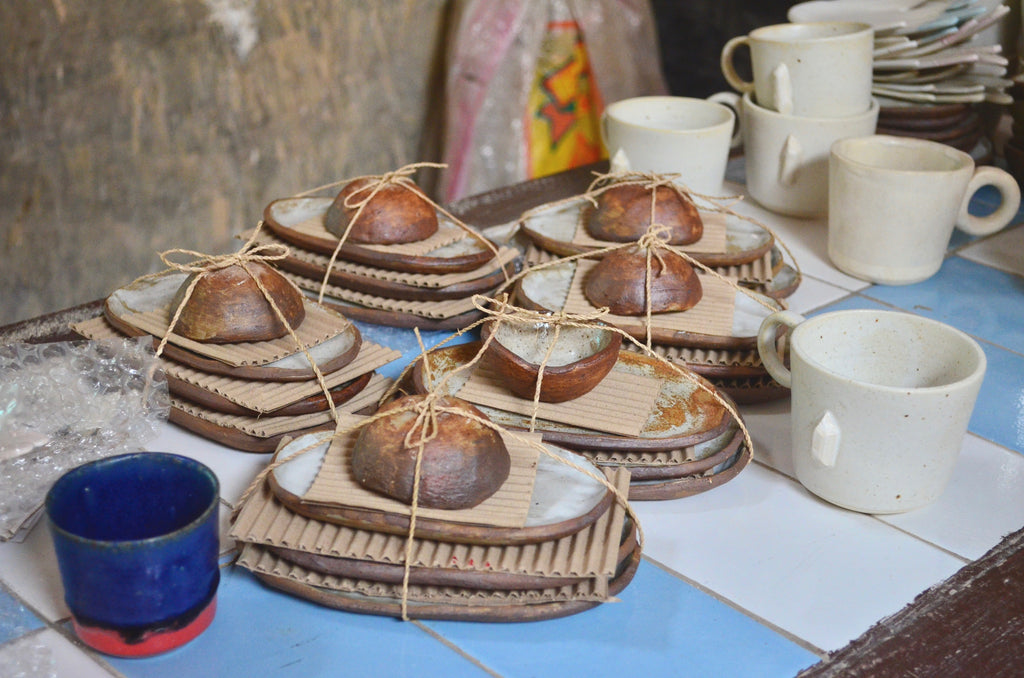 Sometime back in October, the both of us were feeling rather jaded and unmotivated so... we went on a weekend trip to visit Hellorat Project's maker, Rani Aryani, in South Jakarta!
Hello again, small streets and motorbikes! Here's a small street near our hotel.
Well to be more precise, Rani actually stays in Bogor (an hour's drive from Jakarta), so we met up at Tommy's Keramik Studio, a quaint little ceramic studio in South Jakarta which she works from as she has access to her ceramic supplies and a kiln.
On the day itself, we left a good 2 hours before the scheduled meeting time to beat the macet (traffic jam in Indonesian) and 'grabbed' our way to Tommy's studio. We alighted somewhere along a main road as cars could not access the smaller roads.
In a very unassuming alley, we walked past Jakartans (yes, it is a word I think) going about their daily life.
Tommy's studio is actually visible from the small street, if you look carefully. As it was blocked by vegetation and a huge banana tree, we overshot it and (thanks to google maps) retraced our steps to spot the sign 'Tommy Keramik Studio' through the fence.


Check out that rockstar-ish sign!
We were pleasantly greeted by Tommy's dog, Clayton (one of the many pets Tommy has). 
Yes, Tommy has an iguana and a snake too!
Tommy and Rani very graciously brought us on a mini tour of this studio and explained very patiently to us all the different parts and purpose of the studio (we can get very 'suaku' sometimes).
Here are the various types of clay and the different state they were in. We learnt quite a bit of the clay supply chain in Indonesia as well! 
Tommy also pointed out his kick wheels (manual pottery wheels) which he DIY-ed himself


And of course Liyuan just had to try!


Besides conducting workshops and making big orders for cafes, Tommy also rents out his studio to makers who do not have access to kilns. So if you are in Jakarta and want to try your hand at some pottery, this is the place to go!
 
Here are more photos of their studio for you to ogle at - 
Some of the past projects by Tommy
Cups with various sample colour glazes so that we could easily choose at a glance.
Even the tools were hung up very neatly
Rani also shared with us some of her issues that she has been facing while making our order as we spotted a pile of unsatisfactory plates on the shelf.


The pile of broken/cracked plates
And these cups did not turn out the colour they were supposed to


Our biggest takeaway from this visit is that sometimes we, as end consumers, do not see or underestimate the amount of trials and failed attempts that the makers have to go through to produce the final product. We are truly appreciating these handmade tableware even more!


A work-in-progress snap of the rustic brush plates