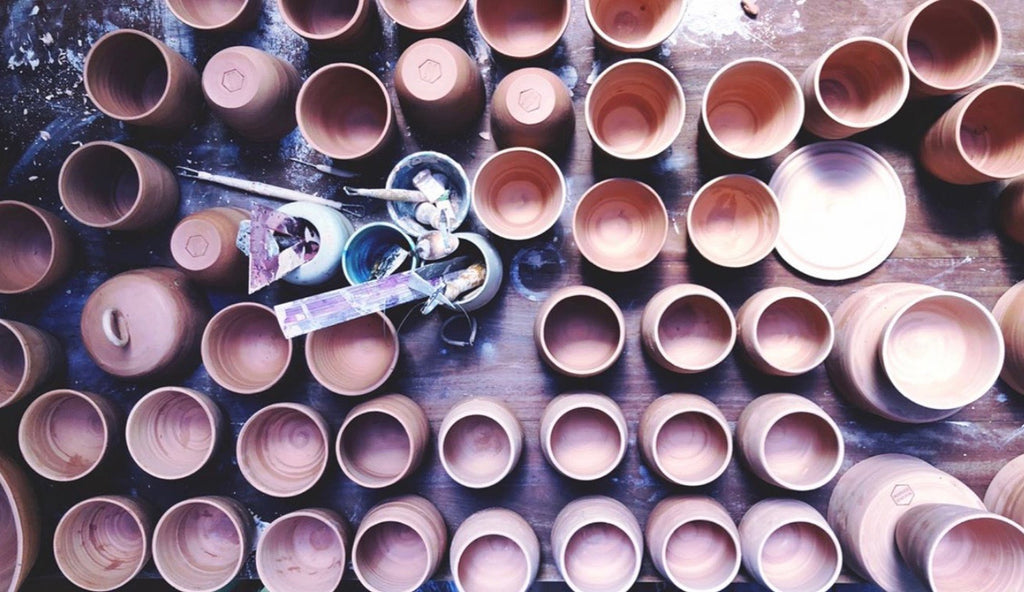 Whenever we are hit by a bout of wanderlust (but can't jet off just yet), we do the next best thing - scroll through ceramicist Matilda Chamber's Instagram feed!
Her aesthetically-pleasing feed of handmade tableware, mostly taken on her raw concrete studio floor has a tendency to automatically teleport us to the lush natural beauty of Australia. Recently, we've managed to catch hold of her to get to know her better!  

Being a one-person studio, Matilda does everything herself from start to end - on top of holding ceramic workshops!
the Tableware Curators (TC):
Hi Matilda, we are loving your takeaway cups! Tell us more about yourself such as your pottery journey and your formal education background. 
Matilda: You could say that I've been in the arts scene for quite some time. I have a Bachelor's degree in Arts and a post-grad degree in Education. I've always been into creating art from a young age. I've had numerous exhibitions of my work, mainly paint on canvas.
Matilda sneaks in time between throwing ceramics and taking care of her kids to indulge in her old hobby - painting.
However, 4 years ago, ceramics stole my heart! I was pregnant with my first child and felt the urge to take up some classes to pass the time while waiting for my little one to arrive.
My grandmother was a potter so I had always had an appreciation for ceramics. I remember her little garden studio and the beautiful pieces that would emerge from it. So by the time my daughter was born, I was well and truly hooked! My father got his hands on an old wheel for me and I set up a little home studio and the rest is history. Now, I work out of a great studio space on the south coast of Victoria. 

A work-in-progress shot of Matilda's pieces
TC: Having been exposed to different art forms or mediums, what do you love so much about pottery and are there parts of it which you dislike?
Matilda: Pottery is a very tough art form to fall in love with - the joy is absolutely in the making. Working on the wheel is very meditative and a great way for me to escape and slow down.
However, there is a lot of heartbreak involved as you are dealing with so many elements including earth, fire, air and water. I'm also an impatient person and since pottery is generally a long process - from the designing to the finishing of a piece - it is definitely teaching me patience!
The before and after trimming of a cup
Some pieces of greenware drying in the sun
TC: Pottery seems to be back in 'fashion' nowadays. Why do you think it is becoming more popular with the younger population recently?
Matilda: I feel like nowadays there are more people interested in a 'slow-living' lifestyle, probably due to the fast pace of the modern society. As such, there has been a tremendous shift towards supporting more handmade products and artisans, which is great! I do love to pick up other artisans' work too. Just the other day, I thrifted some classic pieces from the 60's in a little second-hand store in town.
Glaze appears as a powdered substance before firing
Upon firing, the glazes melt and fuse together, causing that occasional drip or variation in the Paddlepop takeaway cup.
Clay recycling is, and will forever be, a messy process!
TC: It seems that you wheel-throw most (if not, all) of your tableware. Is that your preferred pottery method? 
Matilda: Indeed, most of my work is thrown on the wheel using local Australian clay and it's currently my preferred method. After throwing it onto the wheel, the tableware is then fired to 1000°C and then glazed and then fired again to 1280°C. This ensures the quality of the product to endure the test of time!  
Cups getting ready for bisque firing 
Before-and-after snaps of her tapas plates. Love the wheel-thrown swirls that were intentionally left behind!
the Tableware Curators (TC): How do you come up with the different glaze mixtures. Where do you draw your inspiration for the mixtures from? 
My work is usually inspired by the ocean and mountains that I surround myself with. I'm also always trying to capture the essence of my paintings in my glaze work! 
The Jungle takeaway cups in a mixture black and green, thrown on the wheel of course! Available in 2 sizes.
 
From her Instagram feed: Matilda's pickled mushroom bruschetta and poached eggs on toasted whole grain sourdough looking really yummy on the icy blue dining plate.
TC: Tell us more about your creative process! Do you draw your designs out first or just go with the flow?
Matilda: I have a sketchbook that has everything scribbled in it. If I lost it, I'd be in a world of pain! I design a new shape on the wheel but then I draw it and take notes on the weight and dimensions so that I can replicate it. I also draw a lot of shapes and designs and use them as a reference. 
A snap of her cups at different stages!
TC: Which other ceramicists do you follow closely or are inspired by?
Matilda: The ceramics community here in Australia is fabulous! They are such a supportive bunch of people. I've made a lot of new friends both on social media and in person! I love to follow a lot of other ceramic artists but I try not to be too inspired by their work as I feel that I really need a point of difference and stick to my own unique style. 
Her pinch pots
TC: We love your glaze mixtures, they are really unique! Any last words/ advice for budding ceramicist?
Matilda: The biggest 'advice' I can give you is to persevere and be patient in the process. It's a lot harder than it looks but if you have the passion, you really can go far and there is nothing better than working in a 'job' that you love!
Another shot of her "in-progress" pieces in three different clay bodies using the slab method!
These egg trays are made from slabs as well, and then pushed and nudged into place (probably while it is draped over an actual egg tray), retaining the impression where her fingertips and fingernails dug in. 
--
Got you excited yet? Click here to see her entire tableware collection!
PS. Most of the pictures used in this article were taken by Matilda herself.