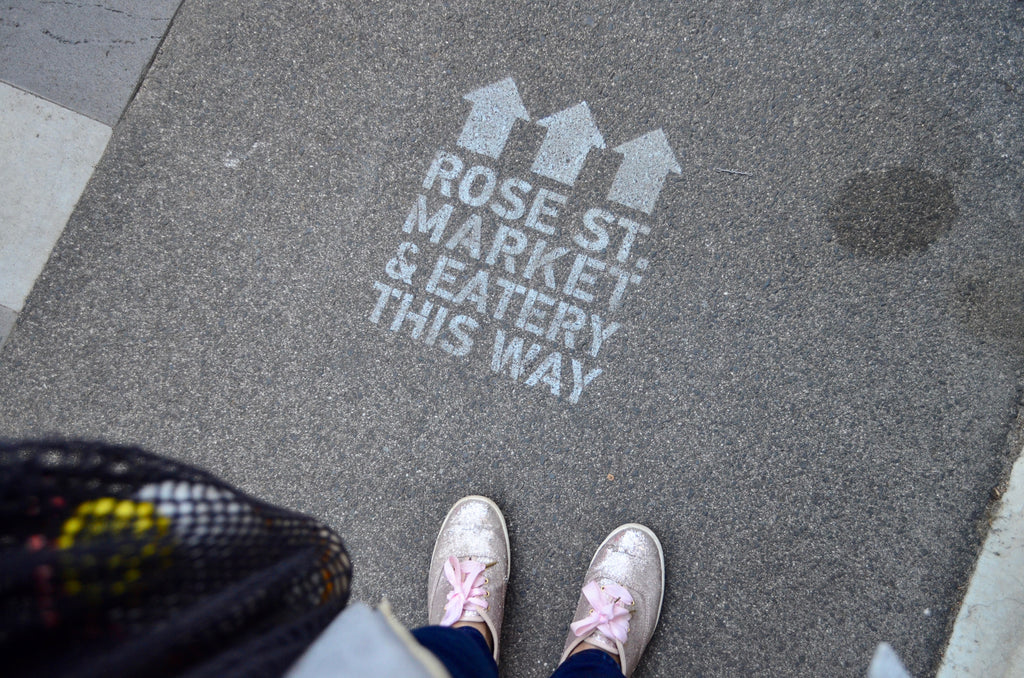 Psst, we are about to show you Melbourne's worst kept secret.. the Rose Street Artists' Market! Have we already mentioned that it's our favourite market in Melbourne?
This is our second time here - the first being in the summer of 2015 when we first bumped into Amelia Kingston! We recalled very distinctly that there was a major heatwave then and it was so sweltering hot (yes, hotter than Singapore!).
This time, we made sure that the market was in our itinerary as we remembered the market as having a wide selection of booth and talented artisans. The plus side is, the market is located in the Fitzroy and Brunswick area so there are a lot of galleries, boutiques and local markets (on the weekends). So you can always plan a trip there and spend the entire day there! 
Enjoy the snaps! We've written down more details on the market and artisans at the bottom of this article.
Love love love this guy's paintings (Scott Laurenson)!
We met Danielle of Carter & Croft here! She is a ceramicist that works with both stoneware and porcelain as medium. We managed to squeeze in a short chat with her and she was more than happy for us to snap some photos of her booth and work!
Her shapes are primarily made from slabs for the cheese platters and dishes, and slip-casted for the vases and cups. 
As we walked around, one colourful and distinctive booth caught our eyes - that of Japanese ceramicist Shoko Mafune's (Hug Bell Ceramics). It was covered with both decorative and functional ornaments that were mostly animal-related. Her most intriguing work is probably the 'hug bell' which as the name explains, you ring it when you're in need of a hug! It's all the more fascinating as we have no idea how the bell could be placed inside an enclosed piece of ceramic (with only tiny holes cut out).
This image was taken from her Facebook to show how a hug bell looks like.

(Left) Can you spot a cat hug bell and a cat bell on display? (Right) A plate I finally grabbed for my sister (after countless exchanges of images through Whatsapp. Oh, the trouble of shopping for someone through Whatsapp! Thank goodness for Shoko's patience!)
This time round, the most memorable shop for us at the Rose Street Artists' market, was this lovely shop, PLANT by Packwood. PLANT by Packwood started with self-sufficient terrariums by Bayden Packwood Hine and Charlotte Nicdao, but has now expanded to include a wide range indoor plants.
This 7m by 3m green oasis / store doubles up as a functional greenhouse and it was designed with serial plant killers and urban residents in mind. In other words, this shop was targeted at people like us. There was even a vantage point where you can take instagram-worthy snaps! 
You need to get here for some major green-spiration!
 ---
Here is a list of artists/makers at the market that caught our eye:
Beanies: Beanies by Courtney (She spins her own wool to make beanies and scarves)
Candles: Shadow Moon Creations
Ceramics: Wonki and J Ceramics // Carter & Croft // Shoko Mafune 
Jewellery: Katrina Barnden Jewellery // // Eden & Sloane // Long Silver Thread  (Really unique rings - spinning bands around a base band! )
Painting: Shag Pile // Scott Laurenson (Check out his IG profile and be ready to be mesmerised)
Plants: PLANT by Packwood (Plant lover or not, you have to check this out!) 
Others:  Able and Game (cards and games) // Elvedee  (Cute and quirky art/art wares) // Simone Devine (accessories and tableware in resin)
Other Information about the market
The Rose St. Artists' Market is situated at 60 Rose Street, Fitzroy in between Brunswick and Nicholson Streets. The market is close to shops, galleries and public transport. There is a nearby street-art walking tour which you can check out here!

By Public: From the city, catch tram 96 from Bourke Street (get off at stop 16) or tram 11 from Collins Street (get off at stop 17).

By Car: There is an all day car park on Rose Street (20m from market entrance). 

The Rose St. Artists' Market is open each Saturday and Sunday from 10am until 4pm.
--
In the area, there are plenty of cool shops and cafes for you to wander about!  Next door to the market, there's a really interesting gourmet grocer, Rose St Pantry, that you can check out! They have a wide selection of local and organic produce and Meredith, the owner, even cooks from her own products for you to taste/buy! Time to stock up on the chia seeds too!
We had our lunch at Sisters Cafe & Bistro when we stumbled upon it while walking to the market. If we are food bloggers, we would definitely give it a 5 / 5 MUST VISIT (although I would say that our tastebuds are pretty easy to impress). I had a wild mushroom risotto there and it was honestly one of the best I've ever tasted! 
It was so good that even Sh kept eating from my plate!