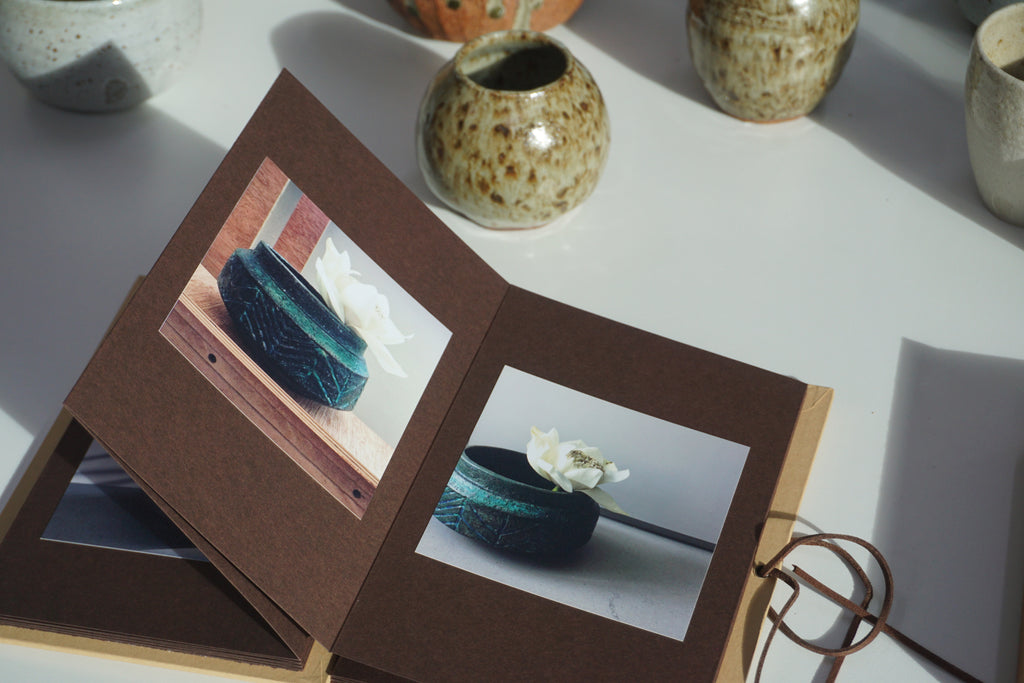 Ever since we got local pottery brand Mossypotssy on board Eat & Sip, we have always held our breath whenever we await her next tableware drop off. Her lines of beautiful and well-made tableware have this mysterious oomph factor that makes us just want to know more about the brand and her pottery story. Here are the six questions we had for her!
Hi Bernice, tell us a little bit more about yourself and your first foray into the wonderful pottery world.
My pottery journey began about 8 years ago. I first picked up pottery in the Nanyang Academy of Fine Arts (NAFA) and am now training under Master Potter Lim Kim Hui. Currently, all my pottery work and glazing processes are done in Ceramic House Singapore where Mr Lim is my teacher and also the person who fires all my work. 
Besides pottery, I also teach art and work as an independent knitwear designer out of my home studio. However, pottery has always and will forever hold a special place in my heart as I continue to delve more and more into the ceramic world.
Would you say that the pottery scene in Singapore seems to be bigger now as compared to when you first started?
Yes, I would definitely agree! In recent years, I feel that there has been growing interest in not only pottery but also handmade items by local makers among people and also businesses in Singapore. There is certainly an increasing number of pottery studios and events centred around local makers these days.
Food establishments, such as restaurants and cafes, are also beginning to appreciate handmade pottery and support for local potters have definitely been increasing tremendously over the years. I really hope this interest and appreciation for craftsmanship sustains for a very long time and keeps on growing.
We certainly hope so too! We love your products and there's just a general theme that is consistent throughout each collection. What's your creative process like?
I usually begin with an end in mind but the process begins in my mind, not on paper. I believe that beginning with the end in mind helps one to cultivate a clear mind, discipline and control. It's most definitely not easy and I'm not saying that I can do it each and every time. There are just times when my skills does not allow me to do it and I get an understanding of how much more I have to learn and do to keep improving.
Do you have a particular making method or firing technique that you prefer to work with?
Most of my work is reduction fired in the gas kiln. I may choose to have my work fired in the electric kiln if it achieves an effect I am going after. In the future, I hope to create some work in a wood fired-kiln.
I have to say that your collections have a distinct Japanese style. Where do you draw your inspiration for your collections from?
I grew up in rural Singapore surrounded by greenery, natural colours and texture. In particular, I have very strong memories of the outdoors (trees, sand, mud, puddles, moss, seeds, dried leaves, smoke, fire, wells, wooden buildings, rain and zinc roofs). These impressions continue to inspire my work even till today.
Also, I do follow Japanese potters very closely. I find that my sense of aesthetic, idea of functionality as well as how pottery can casually but respectfully be a part of daily living, align with theirs. I would have to say that this Japanese way of thinking definitely would have a part in influencing my work. 
Where do you see yourself in 5 years from now?
In 5 years, I will still be learning about pottery. There is just so much to learn and it's really a never-ending journey.
--
Here are some snaps of her works from her last two collections. Enjoy!