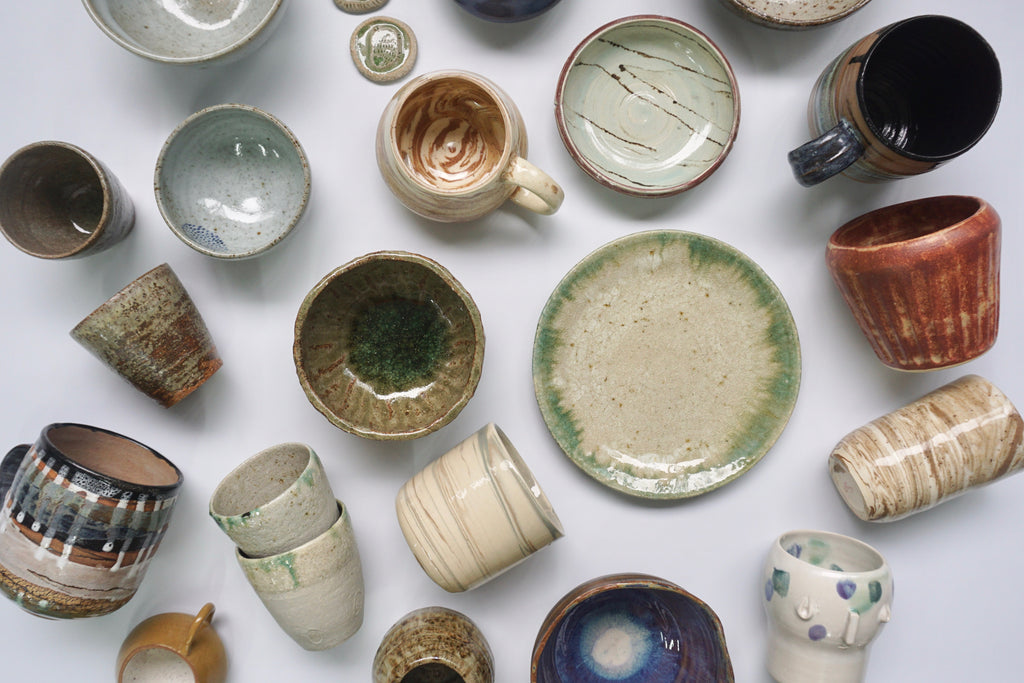 For this year's edition of E&S Open Studio, we've collaborated with over 10 local makers to bring a wider range of handcrafted goodness to all of you!
Here is the list of local makers (in alphabetical order) that we have on board Eat & Sip for two weeks!
 --
Carragh Amos
 
Singapore-based potter Carragh Amos is the person responsible for the gorgeous line of kurinuki cups and wood-fired wares in our studio! Inspired by a wide range of influences including travel, archaeology and Japanese antiques, her pieces exude a certain rawness yet still maintaining a simple elegance that we would love to bring into our homes. She loves hand-building ceramics as it forces her to work more slowly and mindfully.
 --
DaybyDae Pottery (by Daesiree Tan)


DaybyDae Pottery is a brand of daily functional ceramic wares. Handmade and produced in small batches, each piece is made with care and attention by local potter, Daesiree Tan, and designed with minimalist glazes to exude calmness and peace.    
 --
 Gellyvieve (by Genevive Ang) 


A multi-disciplinary artist who is architecturally trained, Genevieve created her namesake brand, Gellyvieve, to portray clay as a fun and accessible medium to everyone. Her seemingly light-hearted and playful line of tableware was wilfully designed to evoke that smile out of you on your bad (and even your good) days!
 --
Janc Ceramic (by Janice Chan)


Like many other potters, what started out as a hobby has now turned into a full-time stint for Janice who is also a teaching assistant at pottery studio Urth&Phire. Janice looks for simplicity in her work by creating timeless and elegant designs that can fit right in most table settings! 
 --
Jenisse Lau


Jenisse started off exploring pottery some years back as a hobby, that quickly developed into a real passion. After an injury to her left thumb in 2019 which casted serious doubts over her ability to do pottery ever again, each piece is now a stark reminder for her to be grateful for life and things that we often take for granted. Plenty of her works contain engraved words or phrases that aim to inspire hope and faith in its user. She believes that words alone can be very impactful and powerful - in building people up or tearing them down.
 --
Lithops Studio (by Hong Chien Nie)
The brainchild of local ceramicist Chien Nie, Lithops Studio creates both functional and ornamental treasures for your home and body. Since she was a little girl, Chien Nie has always been dabbling in crafts and has stuck her fingers in all sorts of making technique such as pottery, metal smithing and wire wrapping. She loves ceramic as a medium as it has the potential to transform an amorphous form of clay to just about anything you set your mind to.
She hopes that her creations can help bring light to the quiet place within you and to remind us that we all can slow down, breathe and just be present.
 --
Mossy Potssy (by Bernice Lim)
Bernice Lim grew up in rural Singapore, surrounded by greenery, natural colours and texture. She now finds joy working in her home studio where she teaches art and works as an independent knitwear designer, but pottery holds a special place in her heart.
It allows her to connect with memories of her childhood spent outdoors with trees, sand, mud, puddles, moss, dried leaves, seeds, smoke, fire, wells, wooden buildings and the sound of rain on zinc roofs. In pottery, she continues to discover how deeply these impressions have shaped her idea of beauty.
 --
Macramenian (by Novelisa)
It all started out of a curiosity for weaving way back in 2013 which then became a treasured leisure activity in between full time jobs as an architect. After making her first macrame a few years later (and lots of trial and error), Novelisa completely fell in love with the medium!
Now, as a stay-home mom to a lovely daughter, she considers starting her brand 'Macramenian' as a personal achievement - carving out time to express herself in designing something with love. She hopes that her creations will make other people happy as much as it makes her happy.
 --
Omelet Trees Studio (by Nigel and Sarah)
A local favourite, Omelet Trees Studio is one of the few Singaporean contemporary pottery brand that most locals recognise. Think of Omelet Trees Studio and their clean distinctive line of tableware comes to mine!
 --
Reimadepotty / Un Studio (by Rei)
Reimadepotty first started from a little corner in local ceramicist Rei's bedroom but has since evolved to become an experiential ceramic and woodworking studio called Un Studio, that she now shares with her partner, Liuyang.
Un believes in the concept of slow life, and being present in the moment amidst the fast-moving modern life - in the form of art and crafting. Through different mediums, Un hopes to create a space for people to escape from the busyness of modern life, and to bring life back into a once empty space where one can experience tranquility and freedom beyond the sense of time. 
 --
Synceramic (by Yang Ce)
Working with her hands, Yang Ce creates purposeful, expressive and thoughtful works that not only heals her as the maker but brings joy and inspiration to those who appreciate and collect her works.
Starting out as an assistant art instructor teaching ceramic to primary school kids almost 10 years ago, Yang Ce has only recently turned full-time as a potter and loves exploring the concept of conflicting patterns by using multiple layers of colours!
--
Serial Kilner (by Gladys Wee)
The brand name, Serial Kilner, by itself is already sure to leave a dent in people's memories but kid you not, Singaporean Gladys Wee, the lady behind the brand, is real serious about her craft. Over the years, she has experimented with different making methods and styles and has produced a varied yet equally lovely range of tableware products. Currently, her line is heavily inspired by nature, Japanese designs and ergonomics! 
-- 
Terra & Ember (by Alan and Sarah)
Terra & Ember is made up of a husband and wife pair who share a love for plants, cats and all things ceramics! Having their home-studio situated in a culturally rich environment along Geylang Road, they are constantly inspired by the urban ecology around them when producing their handmade ceramic wares. 
--
Swing by our studio to check out these 12 Singapore based artists on top of our own collections!
Dates: 10-13 December, 17-20 December 2020
Hours: 12 - 8 pm
Address: 50 Gambas Crescent, (Proxima@Gambas), #09-11 Singapore 757022

Due to Covid-19 restrictions, please book a time slot with us here.