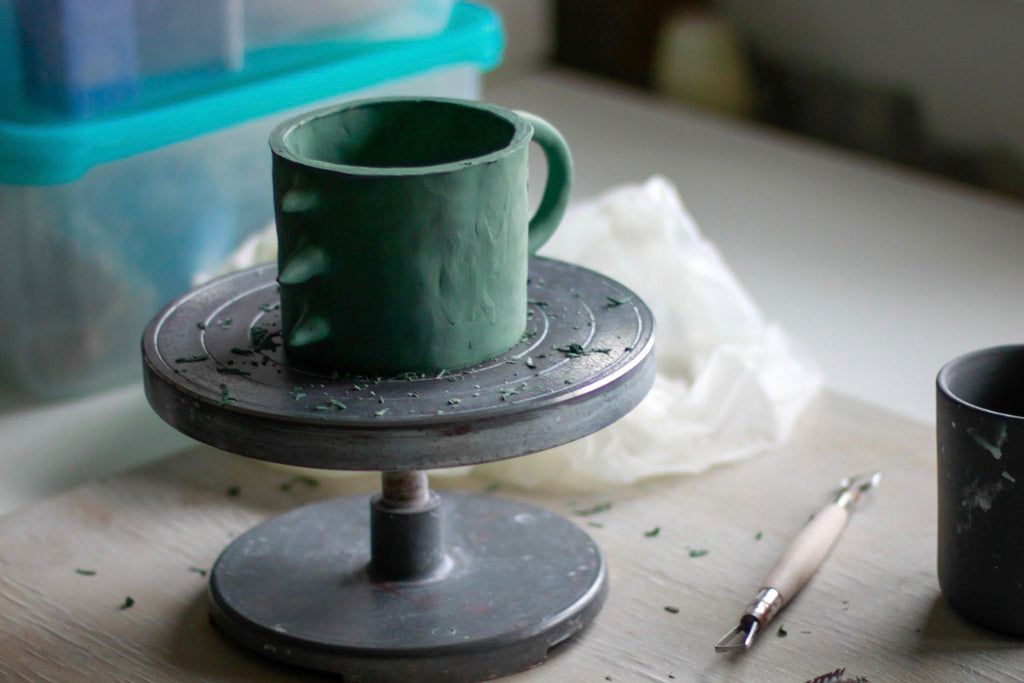 We first started following ceramicist Kira Ni on Instagram when she was in London, but since then she has migrated twice - first to Malta and then to Estonia! That sounds like the dream for many of us but we all know that most of us may never take that leap if we are ever given the opportunity (looking at all you practical Singaporeans and erm, us too)
The 'spiky' dino mugs attracted us with their appearance at first glance!
What's even more amazing is that Kira has managed to uproot and restart her pottery practice every single time while maintaining the quality of her products! Have we also mentioned that her products are strikingly attractive? 
Tell us a little bit about your relationship with ceramics.
I had my very first ceramics workshop in London, UK, back in 2014. At that time, it was just a hobby after work. Once the decision was made to give it a try, I switched to working part-time and continued learning pottery. At the same time, I started developing my own designs. When I moved to Malta in 2015, pottery became my full-time job and it currently still is, after I moved to Estonia.
Even her kiln and pottery shelf look very aesthetic!


It has to be tiring or troublesome to uproot everything when you move and restart your pottery practice.
It's just one of those things I like. I wish that people would move countries more, there is so much energy around it but at the same time, I would advise to think thoroughly before you do it as it is definitely exhausting too.
Uprooting and restarting your pottery practice each time is the challenging part. Once you have moved, you need to start from scratch every time - find a studio and set it up, find a supplier, test the kiln, test your processes, find out how long it takes for a piece to dry.
To ballpark a figure, each move costs me around 6 months worth of lost working hours. That's a lot for a small business.  
You persevered through each time and it seems that you love pottery too much to give it up whenever you moved. 
I love the fact that in pottery, one can never stop learning as there is just so much information to every single process. Hand-building can take years to understand and to develop your own technique. Glaze chemistry can even be a profession on its own!
Notice anything spiky?
What's a working day like for you?
First thing in the morning, I will check my emails since this is the only time during the day my hands are free of clay. Once that is done, I check the pieces that I made yesterday to see if they need some finishing touches. If everything is bone-dry, I pack the kiln for next day's firing.
Afterwards, it depends on the project that I am working on. If it is hand-building, I would prepare clay, add stains and wedge it, if necessary. Depending on the size of a piece, I can either make one big vessel or 3-4 beakers a day.
If it is a slip-casting project, then I will prepare slip, check its measurements like the specific gravity and steer it for about 20min. With slip-casting, I can make around 6 casts a day. On average, I usually work around 8-10 hours a day on weekdays and around 4 hours on the weekends. 
Adding in the coloured stains into her white porcelain clay body
Do you have a specific making method, conditions or materials that you like to work with?

A few years ago, I switched to using only porcelain. At the same time, I started to focus on hand-building and more recently, slip-casting. In terms of firing conditions, I've found out that firing at 970 degree celsius for bisque firing and 1240 degree celsius for glaze firing works the best for me.
Some makers get inspired from their natural surroundings while others  draw inspiration from their relationships with other people. Where does the inspiration for your product lines come from?

I believe that inspiration comes from everywhere. In Malta, I was focused mostly on tableware. Maltese are very family oriented people so they love to organise family gatherings with lots of food. It felt very natural for me then to work on tableware from mugs to serving bowls!
We have to say, we love your seagull jugs and dragon series! They bring a smile to our faces whenever we catch a glimpse of it when we are working in our studio.
Indeed, it brings me happiness too! I have been experimenting with jug forms and made my first seagull jug way back in October 2014. It was made out of stoneware with blue glaze. Out of all shapes I tried out, this one made me smile the most, so I kept on making them. The first few pieces did not have a number on them, but all the others have a unique number.
The numbering idea actually came from those wildlife birds that are under supervision of nature reserves - they have these small rings with a serial number on their feet so that they can be tracked and monitored. I knew that my flock of Seagulls would grow so I needed to give them numbers to keep track of them.
The latest small jugs are slip-casted so they don't have a number, just my maker's mark. Only those that are wheel-thrown or hand-built will have a number.
Each of her signature seagull jugs has a unique number stamped on the base.
It seems like pottery is becoming a bit more popular recently. Why do you think there is so much interest in pottery nowadays?

It's so fascinating to see that all crafts are coming back to live, from pottery to woodworking, knitting, baking sourdough bread, fermenting, stitching and many more. We are probably all a bit tired of mass production and really enjoy creating something with our own hands or to use something that was made/produced by a small business owner.  
Sanding it off to make the exterior smooth!
Functional or decorative?
Both, always both. I believe that even if a piece is not functional in a classic way, it is still functional - a visual anchor that balances out the space.
Which other ceramicists do you follow closely or are inspired by?
My list of wonderful potters and makers is too long for me to list out everyone, but here are some: 
Maryam Riazi (pottery)
Kathrin - wednesdayweaving (weaving)
Baiba Dzenite (glass)
Juliet Macleod (pottery)
Hilde Mork (photography)
Simone Doesburg (pottery)
Jatta Lavi (pottery)
Guy Marshall-Brown (pottery)
Celia Downson (pottery glass)

Any advice for budding ceramicists out there?

Just start. If you want to start working with clay but your biggest obstacle is that you don't have a studio space or a ceramics studio nearby, just do it in your kitchen or living room. Seriously, you can do pottery everywhere.
Her work table in Tallinn, Estonia, is at one side of her living room.
You don't need a big fancy studio to work with clay, just your positive attitude. I have been working in different settings, from a communal pottery area, to having my own studio space to working from home several times.
--
Scroll down to check out more snaps of her in-progress works!
Mixing stains into her porcelain body - the start of her hand-building process!
The mugs take on average about 10-14 days to dry.
Freshly glazed mugs waiting to be cleaned up before its last firing! Pottery is a really slow process - each mug takes on average about 23 days from scratch to end. 
-----
P.S Most of the photos used in this article were taken by Kira herself.