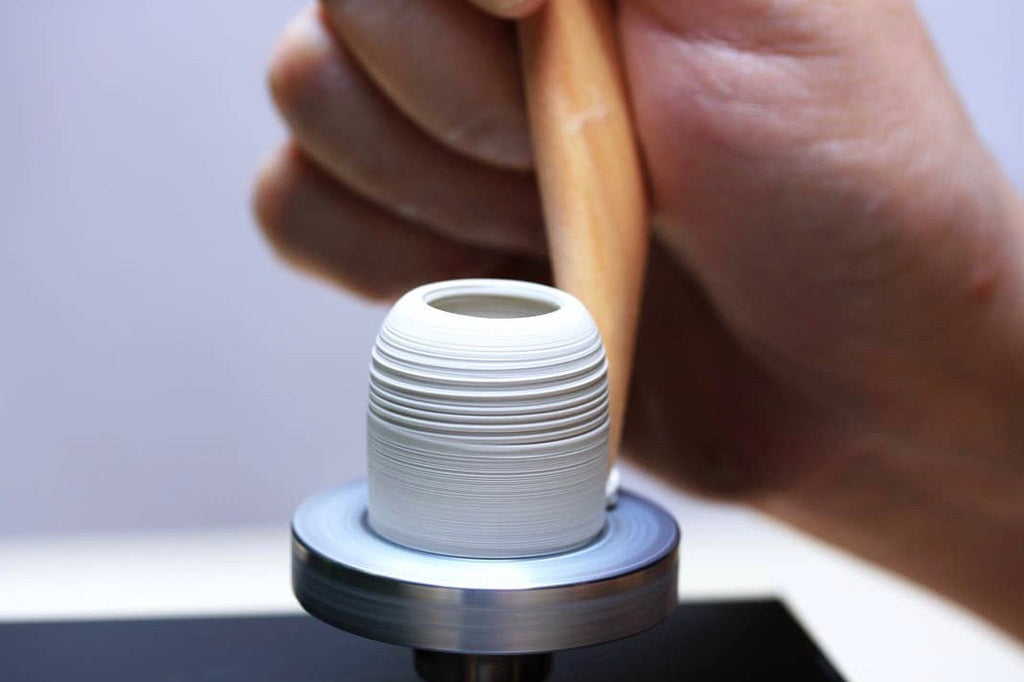 Local pottery brand Terra & Ember first got on our radar two years ago when we saw their lovely marbled amalgamate series of mugs on Instagram and invited them for our very first Open Studio. They have grown quickly over the year and now have a cosy studio where they conduct workshops on top of everything else they do!
Their popular marbled amalgamate series
We managed to grab hold of the husband-wife duo behind Terra and Ember, Alan and Sarah, and took our chance to ask them all questions pottery or otherwise! 
Hi guys, tell us a little bit about Terra & Ember and its origins!
Alan (A): The brand, Terra & Ember, was officially created only in early 2019 but I have been practising pottery since 2016.
Initially, it began as a hobby and a distraction for me during my Masters' degree as I found pottery to be very calming although it can be pretty frustrating at times! Soon after, I bought my first pottery wheel, then my kiln and pretty soon, I had my own little studio where I was making a few pieces for family and friends on request. In 2018, I decided to pursue pottery full-time as I realised nothing made me as happy and fulfilled as when I watch people receive their finished ceramic pieces with joy.
" I love the excitement of trying out new techniques in making new shapes and decorating newly made pots as well as the continuous learning about pottery. That indescribable anxious feeling when you are just about to open the kiln after a round of firing gets me all the time!
We understand that the two of you are working on Terra & Ember together. Is this a full-time job for the both of you?
Sarah (S): Alan is currently helping his parents with the running of a Buddhist Temple and his responsibilities include planning monthly prayers and annual events, assisting in customer management and temple inventory.
In his free time, he would then dedicate it to Terra & Ember by designing ceramic wares and also, hosting pottery workshops in his studio and external venues. For myself, I handle the business side of the brand such as marketing and content curation!
The handmade movement seems to be gaining quite a bit of traction here in Singapore. Why do you guys think pottery is becoming more popular recently?
A: In general, the society is moving towards the end of the spectrum where efficiency is expected of everyone and everything moves at an incredulous speed. However, according to Newton's third law of motion, for every action, there is an equal and opposite reaction.
And that's where craft pottery comes in, as it is the total opposite of fast and on the other end of the spectrum. Besides pottery, we also notice a trend of traditional crafts being appreciated at an elevated level currently.
Alan throwing and working on the mini pottery wheel - they conduct mini-pottery workshops too!
That is definitely true! On the other hand, there are still some people that can't comprehend the hefty price tag behind a handmade product. How can you convince the person otherwise?
S: Handmade products are made to be appreciated beyond the price tag. It is the culmination of years of experience and practice that goes into making a ceramic ware, a form of celebration of a craft experience that the ceramic pot they are holding in their hands is a one of a kind.
Alan trimming a leather-hard bowl to remove excess clay and to refine its shape.
Test tiles for their glazes - to see how the glazes will react with their clay, and also to see how it looks after firing. 
Commercial ceramic wares are standard in terms of their size, shape, colours and design as they are catered to the mass market. If you wanted to look for something minimalistic, bigger, smaller, rounder or taller, etc, it will be difficult to find.
However, for handmade ceramic wares, you may find that one perfect pot that may fit all criteria as above-mentioned. Therefore, the notion of paying $30-$40 for a mug may be worth it after all. 
Is there a specific making method that you like to work with?
S: Alan works with various clay bodies to highlight the shape we want to produce. For the Amalgamate series, porcelain and stained pigments were wedged into porcelain beforehand, usually a day before to mix and prepare for wheel throwing the following day. The pots are bisque fired at 780c and glaze fired to cone 6 with 20 minutes hold.
More of their marbled amalgamate mugs!
Any pottery methods or firing techniques that you have always wanted to try but have not had the chance?
A: We've always wanted to try gas firing which is not commonly done in Singapore. During our training in Jiangxi, Jing De Zhen, we learned that their primary method of firing is gas and the reduction environment in the kiln uses oxygen to burn off the organic materials - leaving behind an oxygen starved environment which produces mottled, rich and earthy colours!
We still keep those precious few gas fired pieces in our studio as our memory and hopefully we will be able to try it again! Another technique we would like to learn is the Yi Xin techniques of hand-building teapots. 
How do you get inspired or rather, what's your creative flow like?
A: We usually first sketch and conceptualise shapes on paper with the desired height and width. We also love to visit cafes and furniture stores to observe how others interact with the ceramic wares or how they are used as interior decors. From there, we imagine how it would be to place a different pot in the setting.
Some uncommon vessels shapes that Terra & Ember are trying out
Functional over decorative anytime?
A: Yes, definitely! However, our modus operandi is form follows function. 
How has the whole COVID-19 situation affected your pottery work?
S: We think, like a lot of other small local businesses, this pandemic has irrefutably impacted our business and work. We were still running classes when the pandemic struck. Although we tried to reduce the number of students per class and spaced them out, we realised that we did not want to put our students and ourselves at risk.
So around end-March, we cancelled all our classes and halted all ongoing projects and thought we could just ride this out. However, the pandemic lasted way longer than anticipated and we were going on for months without any revenue coming in. Not knowing if Terra & Ember was going to emerge on the other side of the pandemic was probably one of the scariest things we had to go through.
Here's our favourite piece of theirs from the 2019 Open Studio

On the bright side, we had a lot more free time during the circuit breaker to expand on our craft and techniques and... we could also start renovating our long-awaited studio space. 
Are there ceramicists that you follow closely or are inspired by?
A: That's easy - our online go-to tutorial, Hsin-Chuen Lin and Earth Nation Ceramics.  
Do you have any advice for budding ceramicists?
A: As a ceramicist or even a practitioner of the arts, it is important to give yourself time to discover what is your angle. Eventually, that angle will give you a distinct presence in a sea of white noises. Don't let setbacks develop into a fear, instead take it in your stride and it will be an excellent mentor. 
Check out that cute little pourer!
--
Note: Most of the photos used in this article were taken by Alan and Sarah themselves.