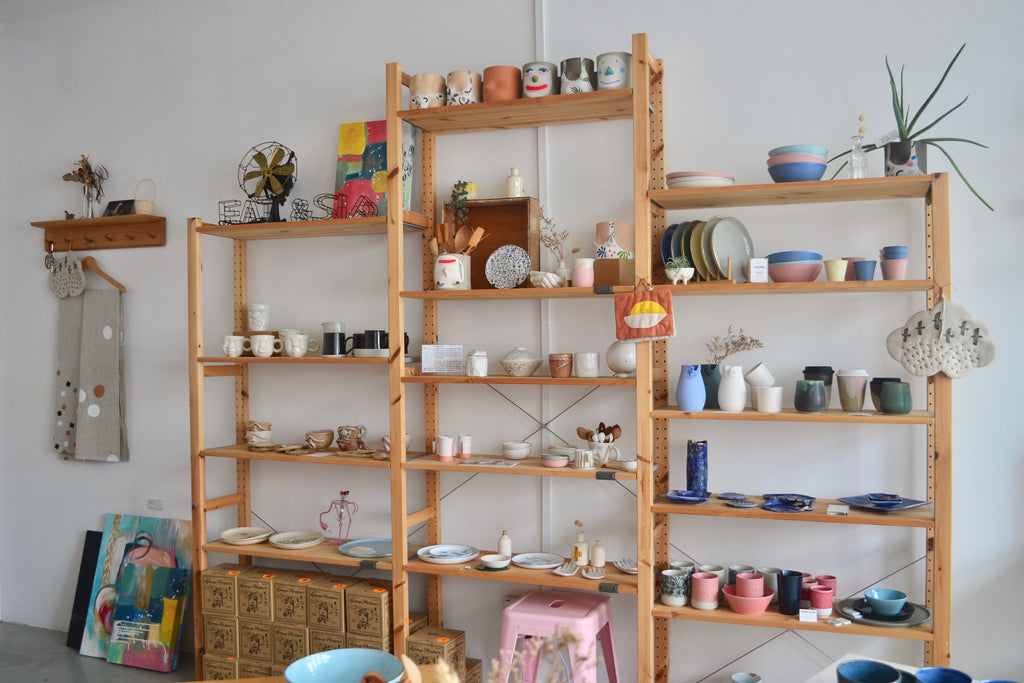 It's over…. our open studio I mean!
After a hectic week packing and moving out of the studio (note to self: never ever plan an Open Studio period right before your lease expires!), we finally have time to churn out this little piece on our reflection as we take a look back at our open studio 'campaign'.
Our Objective
From the get-go, we were crystal clear on our main goal for this open studio - to expose handcrafted ceramics to as many Singaporeans as we could! (yes yes, we just did the unthinkable, going against the basic S-M-A-R-T goal-setting principles by going as broad as possible).
With that in mind, we knew we had to collaborate with some Singapore-based ceramicists to stock their products for the period. But since our studio was a little small, we could afford to invite only five other ceramicists. You can check out who they are
here
!
The Verdict 
Drum roll please... it was quite a blast for us - we met so many new faces, reconnected with old ones and even got to meet other ceramicists! We became avid story-tellers or rather, messengers of our makers' stories, but we enjoyed listening to other people's stories equally too. We talked and talked until we had sore throats and fell sick (true story) and had to close the studio for two days during the open studio period.

It was all so heartening to see more people being interested in the making process and asking all kinds of questions, for which we can only hope that our answers were sufficient! This was a far cry from when we first started ~five years ago, when people were just more interested in the price.
"How is this made? What material is this? Who made this?"
These were some of the more commonly asked questions. And since we pride ourselves as being the story-tellers for our makers, we actually do love it when we get asked questions about the makers and their process (yes, we are that weird!). 
From the outside
Some of our customers were pleasantly surprised when they stepped into our cosy studio - and some even remarked that they never knew Singapore had such a cool cosy homeware shop like ours! Actually, we still haven't decided if we should be feeling proud of our little shop or feeling sad that we haven't marketed ourselves enough (we promise to try harder).
Eat & Sip is a two-person outfit and the curation responsibility is split between the both of us (Liyuan and Shah). As the styles we like are really at extreme ends, we have always felt that the loud clash of styles in our curated tableware range would be very confusing and disorienting when put together on display.
But, (luckily), we have been told many times by our walk-in customers that it is actually a good range of style and gives everyone something to look out for. Thank goodness!
What's next for us?
Moving forward, we are already planning for a pop-up shop over one or two weekends in 2020, which we would want to work with more local ceramicists. Ideally, it would be like a mini ceramic fair where people can purchase lovely handcrafted tableware and also get to know more about their favourite makers! (Think of the yearly IT-fair at suntec, but ceramics only!)
In terms of our next studio space, we have always wanted a wholesome studio space where the community can come in to browse, relax or to just have a chat. There would be an area where makers can come in to conduct classes or for customers to try their hand at making something. But, of course, we still have to fine-tune our business model so that Eat & Sip would be sustainable for years to come! 
Till next time, tada!