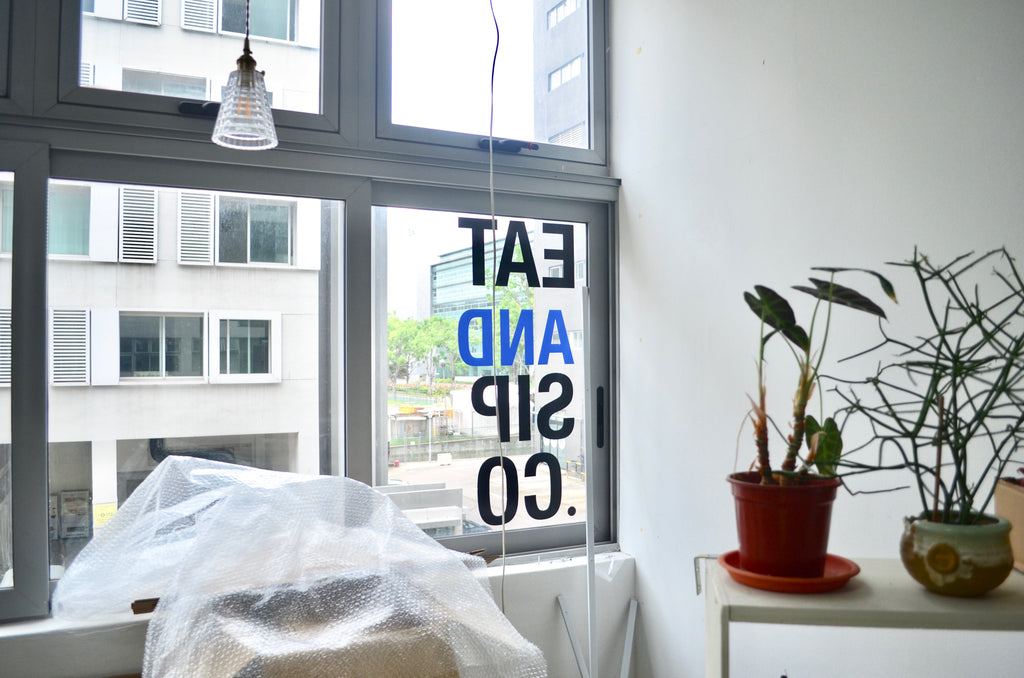 Handing the keys to our studio unit a month ago got us feeling all nostalgic and bittersweet - well, it was our home for the past two years! As such, we decided to compile a visual journal of our little studio as we traced back the two years.
Moving In
After confirming our studio space, we had to roll up our sleeves as there was a lot of ground work involved prior to moving in! As it was our first studio and we wanted to be a bit more D-I-Y (or rather, budget constraints), there were multiple attempts at refurbishing furnitures, wiring and lighting the studio. 
This was a really good find - a vintage cabinet that we bought from
Junkie's corner
 at Turf Club Road. The only downside was that it had a weird blue paint for one of its shelves that we had to remove
(or at least attempt to)
! We later realised that we severely underestimated the job as it literally took hours of scrubbing and wiping away the blue paint. To be honest, we didn't succeed in the end but we had a eureka moment  - and so, we concealed the blue with the baby pink paint that was meant for our walls!
For our display tables, we bought two pieces of rectangular plywood, lacquered them and fixed some table legs that we bought off taobao! Easy peasy!
Our display boxes were made-to-order by Ly's dad and all we had to do was to spray-paint it pink. Multiple layers of paint later and these were good to go!
Some of our loot from Taobao - shelves that were surprisingly quite easy to install and some drawer handles that we adapted to fit onto our white drawers that we bought from Ikea.
Our first display arrangement
This was our very first studio setup. Looking back, the space wasn't really fully utilised but we were still doing small adjustments time to time so that we can have more display space. I would say that it wasn't too bad for our first rodeo!
 
The last two photos above showed our two favourite spots in the studio. First, the little nook by the window that we head to whenever we want a dose of inspiration. And second, the little cosy corner for us to relax that was well furnished with the vintage-looking fan we got from Courts.
As the drawers got fuller, we knew we had to 'expand' our display table, which was previously made of two pieces of plywood stacked on top of one another. Luckily, we had the foresight to not glue them together. So, we split them, flipped them around and voila!
The only constant in life is change!
Time to time, we rearranged our furniture around whenever we had itchy hands or if we just wanted a refreshing change. Somewhere in between, there was also a new addition to our furnishing which was a huge white cupboard for more concealed storage. 
Most of the times, only the cosy corner stayed and almost everything else got moved around. We also decided to share a larger work table instead of using two small ones!
Here's yet another arrangement for our Open Studio. This time, we wanted to maximise our display areas as we had to cater to so much more ceramics, including those from the local makers. We even borrowed a shelf from home!
Packing up
Packing up was a bittersweet moment. On top of all the packing we had to do, we had to do a massive stocktake and restore the space back to its original form, which also means plenty of dismantling sockets, painting and patching up the holes we've made before!
That's it, folks! Now, let's hope we can apply what we have learnt to our next studio space!
--
P.S. Not a single piece of ceramic was harmed during the massive stocktake, packing, transporting and unpacking (and yes, we are very proud of it ✌🏻)