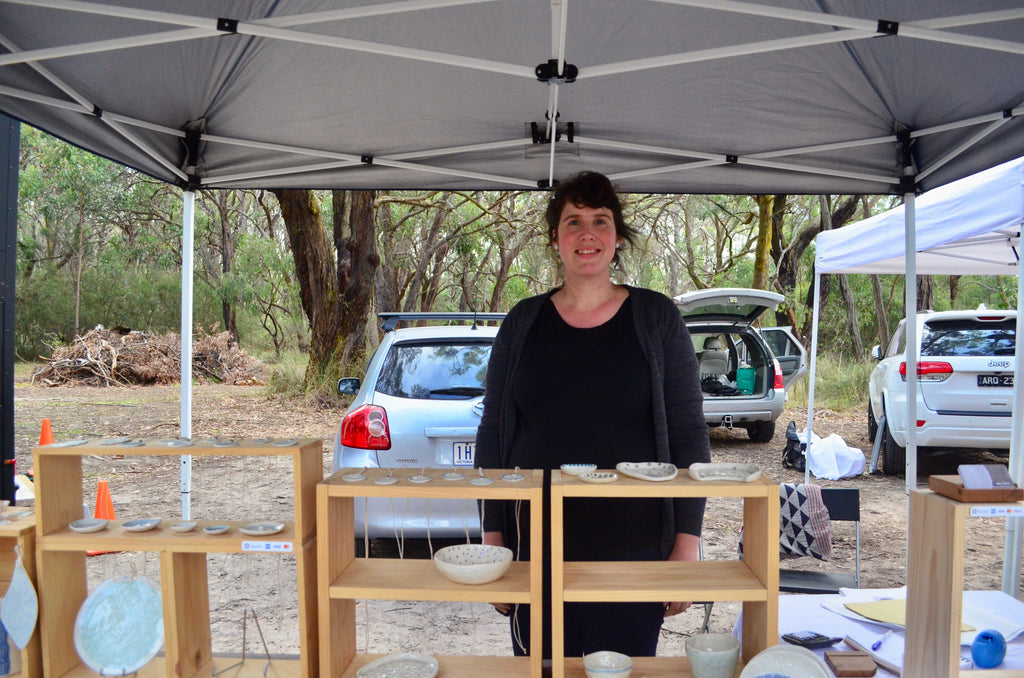 "There is honestly nothing more satisfying than putting my hands into a new lump of clay and making it into my own creation." - Anne
This time round, we got in touch with Anne Laure Harskamp to get to know her and her process a little bit more! In case you didn't know, Anne is the talented maker behind the hand-painted series of tableware.
We first met her at the Emu Plains Market when we were on a sourcing trip and Ly had that little sparkle in her eyes when she saw Anne's booth. We just knew we just had to get Anne on board Eat & Sip! Fortunately for us, she allowed us to wipe out almost her entire table even though we did not order anything beforehand.
the Tableware Curators (TC): Hi Anne! We love your hand-built tableware line. Do tell us a little bit more about yourself and your background. 
Anne: Hey there guys! My creative journey started all the way back in 2009 when I had just completed an MA in Sculpture at Wimbledon College of Art (UAL) in London, during which I predominantly created sculptures and installation pieces through working with a variety of materials, such as resin, glass, fabrics and wire.
It was only a few years later, in 2014, during an evening pottery course, that I started working with clay and fell in love with this medium. Over the years, I have undertaken several short pottery courses that eventually led me to setting up my own little home studio in 2017. I have been happily making and selling my work ever since. 
Anne works from home while taking care of her daughter and her second child will be due very soon too!
TC: Is hand-building your preferred pottery making method?  
Anne: Yup, I create one-of-a-kind, hand built functional and decorative pieces out of stoneware and porcelain clay. Using slab, pinch and coil techniques, my work is predominantly process driven, often decorated with sgraffito, imprinted textiles or hand painted with endless repetitive patterns.
All my work, whether porcelain or stoneware is high fired at 1280 degrees Celsius, making each piece vitrified, non-porous and therefore perfectly functional. 
Besides hand painting, Anne also likes carving on leather hard clay and imprinting slabs with lace patterns.
TC: Since most of your pieces are one-off, what's your creative flow like? Do you sketch out your ideas first before making them or do you go straight to work with clay?
Anne: I often draw out new ideas for shapes and designs in my sketchbook - particularly when I am a little stuck during the creative process. However, these ideas don't always materialise. 
Other times, whilst working the clay, the shapes can change and new ideas actually come to life. Whenever I like a shape, I will always make sure to write down the measurements in case I want to create something similar in the future.
A mixture of stoneware and porcelain spoons. Can you tell which is which? 
For plates and some of my slab-built cups, I have created templates with the exact measurements, as customers often want these in sets or multiples. My small size brooches act as pattern testers and samples, before I start painting these onto larger items such as cups and plates. Usually, I end up selling these as well as they make great little presents.
Anne's works are characterised by the one-of-a-kind hand built pieces that would usually flaunt repetitive patterned artwork. 
Some of her brooches that were used as sample/testers
TC: Where do you find inspiration for your tableware line?
Anne: Repetition and rhythm are always very present in my work process, from laying out endless coils to painting highly repetitive patterns onto the clay with underglazes.
"By using predominantly handbuilding techniques, my fingerprint is forever present within my organic, often uneven, one of a kind, ceramic pieces.
I draw inspiration mostly from the natural environment, particularly when I work on shapes and create more textured, tactile pieces, but artists and cultures that use repetition and pattern within their art or craft equally have a great influence on my ceramic practice.
The different stages of her hand-built and hand-painted cup. No two pieces are ever identical!

Incase you were ever wondering how the dots get onto the plate. They were painstakingly drawn on by hand, one at at time!
TC: What draws you to pottery and ceramics? Also, is there any part of it that you do not like? 
Anne: I think I am drawn to clay as I love the endless options this medium gives me. The freedom of exploring organic shapes entirely by hand and the various stages during which my creations transform entirely are just magical. 
I also learned pretty much from the start that one has to be patient when working with clay. There are so many different steps in the making process, with two separate firings during which everything can go wrong.
"It's hard labour and frustrating at times, but I learn to let go quickly and remind myself that these are also very important moments, as they help us to improve in skill.
Anne's cups and vessels have a irregular shape and 'hammered' surface - an idiosyncrasy of handbuilt pottery!
TC: Pottery seems to be getting popular recently, why do you think this is so?
Anne: I think there is a greater appreciation for the handmade nowadays.  More people buy handmade quality items, follow makers through social media and love the fact that they can meet the maker, who is usually behind the scenes.
Melbourne in particular has an amazing wide range of markets, which is so great for us artists to get our work out there and connect with other creatives and our customers. There are also more potters' organisations which open their doors, offering short term or one day courses in which everyone can learn some pottery skills.
I believe that through these classes and experiences, people learn to appreciate the skill and time that goes into making each unique pottery creation and value the handmade even more.
Anne finds joy in this slow and thoughtful hand painting process. Also, the pink colour will turn into royal blue after firing!
A lace spoon rest that we decided to pick up at her booth because we love how the lace imprint was off-center! 
TC: Which other ceramicists do you follow closely or are inspired by?
Anne: I am in awe with the work of Australian ceramicist Yvette de Lacy's work (Mountain Clay), in particular her repetitive tree patterned creations and  her organic hand coiled vases. 
Another Australian ceramicist I greatly admire is Katherine Wheeler who creates delicate and intricate porcelain hand-painted ceramics. There are many more artists that come to my mind and thanks to Instagram I am able to follow most of these closely.
Anne waters down her cobalt blue underglazes for a watercolour effect. Her hand painted wall hangings are one of the more popular items that she makes. 
TC: Any advice for budding ceramicists?
Anne: I encourage any budding ceramicist to just go for it, but to do so at your own pace. It took me a good year to develop my logo, product ideas, prices and how I wanted to sell my ceramics.
I realised pretty quickly, that with a little one at home, it was hard to combine markets and selling online. I decided to focus on markets as it worked for me and I found that that's where people would give me to most useful feedback, feedback that is still helping me grow today.
It is hard work all the time, with lots of questioning moments, but try and remember the small achievements along the way. Write them down so you can look back at them in those moments of self-doubt.
Anne's plates at her booth right before we picked them up.
Can't stop staring at those brush strokes!
---
To browse through Anne's lovely collection of hand-built pottery, click here!